The rest of the series can be accessed by clicking on the vids above...
_____________________________________________________
Tens of thousands of Iraqis may be given 'refuge' over here
"The United States has a "moral obligation" to resettle tens of thousands of Iraqis who helped U.S. troops and civilian groups and who now face death threats from al Qaeda terrorists, members of Congress told Secretary of State Hillary Rodham Clinton and Defense Secretary Robert M. Gates."
Let me get this straight: We spend billions and thousands of lives so the few Iraqies who want to live in Liberty can leave the country we have allegedly conquered? Uh huh...
_____________________________________________________
Border agent says Mexican drug cartels want to dominate society
"During the past three years, about 6,000 people have been killed in Juarez and thousands of businesses have been shuttered. The two cities no longer look the way they did 10 years ago when tourists routinely crossed the Rio Grande and families gathered without concern at night.

"And as the drug war rages, Pena said, the cartels are beginning to intensify their tactics. For one, they are using their firepower on the authorities that are trying to stop them. And they are becoming more brazen.

"He showed a video of the cartels overpowering a port of entry in Mexico."
_____________________________________________________
Arizona has a case(short of secession) for billions in damage from uncle sugar
"The surge in illegal immigration has brought with it crime and violence. Phoenix is now the kidnap capital of America as a result of the Mexican gangs that have invaded Arizona using kidnapping as a form of turf acquisition and protection.

"Notably, on the Independence Day weekend this year a Mexican drug gang announced that the border with Mexico and Arizona was "moved" several miles into Arizona whereby Interstate Highway 8 would now be the border. There was no response to this by the Obama administration."
_____________________________________________________
Treason from within...
_____________________________________________________
Plans to build massive Islamic centers raise concerns in Tennessee
"At the end of the first Iraq war, the United States designated Nashville, Tenn., to be a "gateway city" for refugees fleeing their war-torn country, setting the stage for what has become, less than 20 years later, a rapidly growing Muslim population in the Volunteer State.

"As the Muslim population grows and their communities spread throughout the state, religious leaders say their places of worship must do the same, spurring the construction of mosques and the massive Islamic centers that host them in several Tennessee cities, including Murfreesboro, Memphis and Antioch."
_____________________________________________________
Saudi Arabia has its own border issues
"Al Qaeda has, once again, declared its intention of overthrowing the Saudi government. Al Qaeda in Arabia is much more effective at making grand proclamations, than it is in carrying them out. There aren't many of these Islamic terrorists, they aren't very good at what they say they can do, but they are still vicious killers if you get in their way. "
_____________________________________________________
Army reports AWOLs up 234 percent
"Tucked into this massive Army report on suicide is an interesting fact: Since 2004, the number of soldiers going AWOL, deserting, and "missing movement" — that is failing to deploy when they're supposed to — has gone up a shocking 234 percent."
_____________________________________________________
"Sea level is—and has always been—in equilibrium with the planet's gravity, which pulls the water toward the earth's center of mass, and the outward centrifugal force, which results from the earth's rotation. After a few billion years of spinning, the earth has taken on the shape of an ellipsoid (which can be thought of as a flattened sphere). Consequently, the distance to the earth's center of mass is the longest around the equator and shortest beyond the polar circles. The current difference between the average sea level as observed along the equator and the distance to the earth's center of mass from the sea level at the poles is about 21.4 kilometers (km)."
_____________________________________________________
And why are we 'over there?'
_____________________________________________________
Long live the constitutionalist sheriff
"One of the tragedies of the current misled, uninformed, and otherwise preoccupied American citizenry is the seeming apathy regarding the importance and necessity of electing constitutionalist sheriffs. In many ways, State governors and county sheriffs just might be the most important elected offices in America. It is no hyperbole to say that State governors and county sheriffs form the last line of defense against tyranny and oppression. If our governors and sheriffs do not understand the principles of freedom and federalism, there is virtually zero protection against the abuses of liberty–save the right of the people to personally and individually defend liberty via the principles of God-given Natural Law.

"Hence, a freedom-minded sheriff is invaluable to liberty's defense. And perhaps at no time in America's history has it been more necessary that we elect freedom-loving sheriffs than it is today, what with the ever-growing propensity of the federal government to trample and usurp State and constitutional protections of freedom."
_____________________________________________________
"In opposing my friend and Harvard-trained attorney Edwin Vieira's column propounding the unconstitutionality of State secession, Longcore proffers the Natural Law (my term, not his) right and process by which states may secede from an unnatural and coercive union. He calls it a "practical blueprint for secession." Here it is:

1. Establish a money system based only upon gold and silver. That is the power of the purse.

2. Re-establish the "well-regulated militia." That is the power of the sword.

3. Call a constitution convention in the state to rewrite the existing state constitution into a document of governance fit for a nation.

4. Draft a Declaration of Independence and an Ordinance of Secession.

5. Present the Declaration and Ordinance to the proper Federal authorities.

"Done! Secession completed. Now the REAL work begins."
Yep, that's when the real work will begin. It might look something like this:
It would be better for patriots all over the country to do what will be required to take the entire country back and eject the natural born communists who do not belong here.
_____________________________________________________
How to fix a dysfunctional senate, cut 98 senators
"On Thursday, the chamber approved a $600 million border-security bill in 31 minutes, from opening gavel to final passage. While their colleagues were enjoying a summer recess, Sen. Chuck Schumer flew in from New York and Sen. Ben Cardin drove his Pontiac from Baltimore to represent the entire Senate in the cavernous chamber."
My comments:
How 'bout a bill number or a link to the actual legislation on Thomas so we can judge for ourselves what these lowlifes have done?

No one in their right minds trusts those bastards. Chuckie Schemer should've been arrested, tried for treason and executed years ago.

As far as cutting the senate, and the house, arrest all the members of the 'progressive caucus' and give them the treatment chuckie deserves.

Our biggest enemies are white, were born here, and call themselves "Liberals" and progressives to hide their evil communist tendencies.

It will take many expensive suits hanging along Penn. Ave. to fix this mess if it can be fixed, and an extensive "Liberal" season whereby we force the amerikan communist insurgents out of the country or kill enough of them to restore Liberty.

It's way past time to stop hunkering down for the apocalypse and to prepare for the fight that must come because it will be forced upon us by the powers who want to always be.

Don't understand? Start here.
_____________________________________________________
Putting government(workers) first
"Hence, we have a situation where private sector workers in Middle America are being taxed, their children being driven ever deeper into debt to China, so government employees who have greater job security than they do, and earn more in pay and benefits than they will ever earn, can stay in Fat City."
_____________________________________________________

Time for a refresher course...
_____________________________________________________
Smile! Aerial images being used to enforce laws
"Sean Walter, an attorney and first-term town supervisor in Riverhead, N.Y., insists he is a staunch defender of privacy rights and the Fourth Amendment, which protects against unreasonable search and seizure.

"But Walter supported using Google Earth images to help identify about 250 Riverhead homes where residents failed to get building permits certifying their swimming pools complied with safety regulations. All but about 10 eventually came to town hall."
_____________________________________________________
Kentucky legislators do something right...
Contract review committee denies funding for extremist environmental group
"A state legislative oversight committee today voted to disapprove renewing the contract of the controversial Kentucky Climate Action Panel.

"The bipartisan vote by the Government Contract Review Committee to not renew a previous contract reflected lawmakers' concerns about the panel's involvement with the Center for Climate Strategies, a Washington, D.C.-based environmental group committed to discouraging the use of fossil fuels and diminishing consumer freedoms, said committee member Brad Montell, R-Shelbyville."
_____________________________________________________
Is this finally the economic collapse?
"Now that the US can't cut interest rates any lower, the only option left on the table is what the Fed just announced it would start doing -- buying Treasury debt. And that could lead the country to the brink of collapse: According to economists Carmen Reinhart & Ken Rogoff, whose views we share, crossing the 90% debt/GDP threshold is the equivalent of crossing the proverbial Rubicon of economic growth. It's a point from which it's almost impossible to return."
snip
"Lest our doom and gloom seem built entirely on technical measurements, what they boil down to is actually quite simple -- an idea about our country which dates back to 1835. Alexis De Tocqueville, author of Democracy in America, which was published that year, seemed to warn of this day when he wrote: "The American Republic will endure until the day Congress discovers that it can bribe the public with the public's money."
It's not based on our money, but our future labor. We need to refuse to 'labor' for them...
_____________________________________________________
And the arrogance of what we face...
They don't seem to have any problem with the 'F' word. They are amoral creatures who will do whatever they deem necessary to shove their communism down our throats. _____________________________________________________
Watermelon groups want us to 'get the lead out' of our bullets
"As the American military begins to embrace "green bullets," environmental groups are pushing state and federal officials to ban the use of lead in hunters' guns and fishermen's tackle.

"Their goal is to protect both the animals that scavenge the carcasses of hunted prey and the people who consume meat from hunting expeditions."
We need to be injecting lead into the eco-commies... That's the only cure for their disease.
_____________________________________________________
Young and the stupid who put the mutt in the White House may skip the mid-terms
"Will all of those young, enthusiastic Obama voters turn out in 2010? If history is any guide, probably not. Older voters are historically more likely to cast ballots in midterm elections than are voters under the age of 30. And this year, they are already more enthusiastic than younger voters about the coming campaign."
_____________________________________________________
Web photos can reveal where you live
"Security experts and privacy advocates have recently begun warning about the potential dangers of geotags, which are embedded in photos and videos taken with GPS-equipped smartphones and digital cameras. Because the location data is not visible to the casual viewer, the concern is that many people may not realize it is there; and they could be compromising their privacy, if not their safety, when they post geotagged media online."
_____________________________________________________
I just call them 'eco commies' to keep things simple
_____________________________________________________
"For the 10th year now, the White River 50 miler–held this past weekend near Crystal Mountain Ski Resort and Mt. Rainer National Park in Washington–has been the USATF National Trail 50 mile Championships. For many reasons this official governing body's technical designation is nearly irrelevant in the North American ultra running community, so it is a testament to the high quality of the course itself and of Scott McCoubrey's (and his helpers') race directing that White River annually attracts one of the deepest 50 mile race fields in the country. In my opinion, only the large prize purse of the North Face Endurance Challenge Championships and the lengthy history of the American River 50 miler are able to catalyze comparatively competitive races at the front of the pack."
_____________________________________________________
Can we shoot a target that looks like the Marxist mutt?
"Absolutely. The First Amendment protects the right to free expression, which includes the right to shoot, burn, or in any way destroy an image of anyone including the president as long you're not posing a "credible threat." The standard here is whether there is genuine intent to commit or incite violence, and also whether that violence is likely to actually occur. If there's no "clear and present danger," as Justice Oliver Wendell Holmes, Jr. put it, there's no basis for censorship. So unless the Seaside Heights boardwalk is, in fact, a surreptitious assassination training ground, the game is perfectly legal. "
My comments:
I'd never take a pot shot at the Marxist mutt. Arrest and try it for treason and execute it in a legal manner yes.

But in reality it's done so much good, keeping the republicrats off the golf course, just as I predicted it would: It's woke lots of sheeple up, pissed lots of people off and sold more guns and ammo than the klintons ever thought about. The only thing missing is for its arrogance, or the arrogance of the commie congress to provide us the reason for "Liberal" season.

I'd rather have targets of the republicrats who ran congress and the white house for over a decade and did virtually nothing toward reversing decades of communist influence on our country.

A creature that hides behind a façade is far more despicable. Only idiots and liars didn't realize the Marxist mutt is a commie and a NWO hack. The republicrats manage to vote correctly just often enough to keep people fooled.

Our biggest enemies are white, were born here, and call themselves "Liberals" and progressives to hide their evil communist tendencies.

It will take many expensive suits hanging along Penn. Ave. to fix this mess if it can be fixed, and an extensive "Liberal" season whereby we force the amerikan communist insurgents out of the country or kill enough of them to restore Liberty.

It's way past time to stop hunkering down for the apocalypse and to prepare for the fight that must come because it will be forced upon us by the powers who want to always be.

Don't understand? Start here.

And don't miss my blog, columns and other pages "Liberal" freaks and republicrats love to hate.

Then share and prepare for what will be required of those who claim to love liberty.
_____________________________________________________
It's called theft
'Conservative' movie will stick it to the Marxist mutt?
"Ray Griggs, the director of the film comedy Super Capers (2009) and Wind In The Willows (pre-production), has assembled an all-star cast of prominent voices of America's conservative movement in the rousing feature film documentary I Want Your Money, a powerful and critical examination of the Obama regime and its expansionistic government policies."
My comments:
Reagan, gingrich and neocons. Not very impressive.

Our biggest enemies are white, were born here, and call themselves "Liberals" and progressives to hide their evil communist tendencies.

It will take many expensive suits hanging along Penn. Ave. to fix this mess if it can be fixed, and an extensive "Liberal" season whereby we force the amerikan communist insurgents out of the country or kill enough of them to restore Liberty.

It's way past time to stop hunkering down for the apocalypse and to prepare for the fight that must come because it will be forced upon us by the powers who want to always be.

Don't understand? Start here.
_____________________________________________________
Headlines only
New gel could speed wound healing
Restore the Constitution Western Rally
Take Back Kentucky monthly meeting
Rand Paul to visit Campbellsville
_____________________________________________________
Is your diving board this high?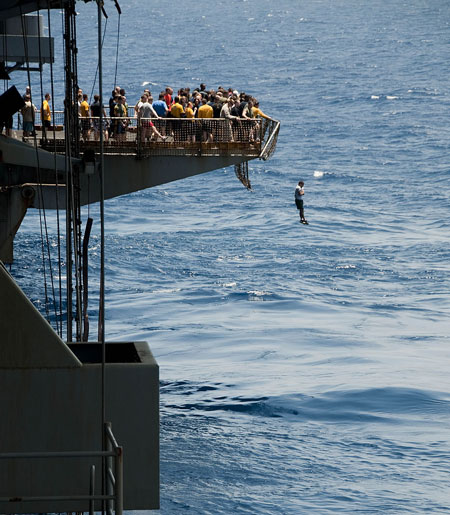 "A Sailor jumps off an aircraft elevator aboard the amphibious assault ship USS Nassau (LHA 4) during a swim call."
_____________________________________________________
San Francisco bans guns for movie posters
"One victim of the policy (other than the First Amendment rights of advertisers) is a subway poster for the action-comedy movie "The Other Guys." The official poster for the movie shows Will Ferrell and Mark Wahlberg (their characters are law enforcement officers, no less) flying through the air with guns drawn. Typical movie stuff. But not for SFMTA, which apparently finds the poster threatening and will only allow a revised poster, featuring Ferrell holding a can of pepper spray and Wahlberg sporting only his fists, as they supposedly take on the bad guys."
_____________________________________________________
The two(or three or more) factions fighting for control of the planet
"The Factions exist in every country throughout the world. They are in every political party, every Non Governmental Group (NGOs), every state, county, town and even your school boards!

"Faction One is the group of international bankers and corporations that wish to control the entire world. Faction Two (F2) is made up of a covert group of men and women who know what Faction One (F1) wants, and purposely throws roadblocks in their path to slow down their world takeover. "
Well, one version anyway. Unfortunately there are several. That's why it's best to concentrate on two things, the laws they want to force us to live under, and the force that will ultimately be required to restore/establish Liberty.
_____________________________________________________
Extravagant hairstyles make black women fat says group
"Promoters of the initiative cite unspecified studies that show black women sporting extravagant hair styles avoid certain types of physical fitness activities just so they can maintain what's on their heads while neglecting their waistlines. According to recent government statistics, nearly 4 out of 5 black women are overweight or obese, though hair styles are not cited as a contributing factor."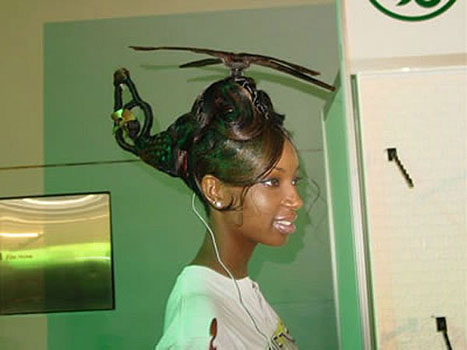 Old fashioned laziness, television, government cheese, and 'my ancestors were slaves' have nothing to do with it of course...
_____________________________________________________
How to prepare for deployment to Iraq
"Wash only 15 items of laundry per week. Roll up the semi-wet clean clothes in a ball. Place them in a cloth sack in the corner of the garage where the cat pees. After a week, unroll them and without ironing or removing the mildew, proudly wear them to professional meetings and family gatherings. Pretend you don't know what you look or smell like. Enthusiastically repeat the process for another week."
_____________________________________________________

Quote for the times
"Political tags -- such as royalist, communist, democrat, populist, fascist, liberal, conservative, and so forth -- are never basic criteria. The human race divides politically into those who want people to be controlled and those who have no such desire." - Robert A. Heinlein (1907-1988) American writer
_____________________________________________________