"Ideas are more powerful than guns. We would not let our enemies have guns,
why should we let them have ideas?" - Josef Stalin

WNB A

pril
2010
April 22, 2010
Louisville Tea Party Tax Day Rally pictures(scroll down the page after clicking on this link)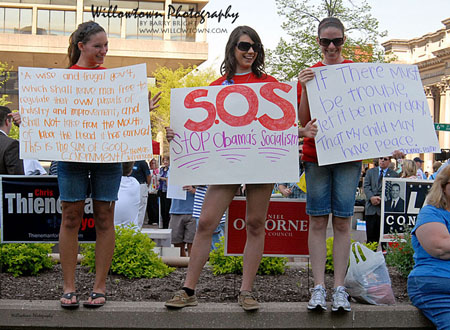 Too bad more tea partiers don't have the attitude of the young lady on the right. The only two questions that matter now are: Will the conservatives, Libertarians, et al. congeal to do what will be required? and Do they have the resolve to weather the next false flag attack that will surely come, per the NWO playbook, re. the OK City Bombing and 9/11? Only time will tell...
This is one not-so typical speaker:
And another:
________________________________________________________
See what your domestic enemies think of you:
And my comments posted here:
Personally I was teaparty before tea parties were cool.
And this witch is right. I've been ready to open "Liberal"(commie) season for over a decade, waiting for enough idiot sheeple to pull their heads out of their rear ends, stiffen their backbones and do what should be done.
I predicted a Marxist mutt presidency would do three things:
Wake up many sheeple, piss many people off, sell more guns and ammo than the klintons ever dreamed about and if we're lucky the arrogant ones would provide us with the reason to start "Liberal" season. So far I'm batting 3 out of 4. Maybe we'll really get lucky this time.
Enough weapons and ammo was sold in the first 3 months of last year to outfit the Indian and Chinese armies. It wasn't bought for deer or duck season.
Don't fear "Liberal" freaks, we won't force you to stay here in what was once the land of the free and home of the brave, and will be again. But if you choose to stay and continue to shove communism down our throats at the point of a government gun you may learn that 'Liberty or death' will mean your deaths.
Don't understand? Go to willowtowndotcom, scroll right to the quotes page, then share and prepare for what will be required of those who profess to love Liberty.
________________________________________________________
"Remember, this is not a Christian university report or even a secular university's religion department report, but rather a report written by an active duty Army major..."
And it could be just that, a 'report' meant to stir some to think, or it could be a precursor.
________________________________________________________
Qu
ote
for the times
"That is the key to history. Terrific energy is expended - civilizations are built up - excellent institutions devised; but each time something goes wrong. Some fatal flaw always brings the selfish and cruel people to the top, and then it all slides back into misery and ruin. In fact, the machine conks. It seems to start up all right and runs a few yards, and then it breaks down." - C. S. Lewis (1898-1963), British novelist

________________________________________________________